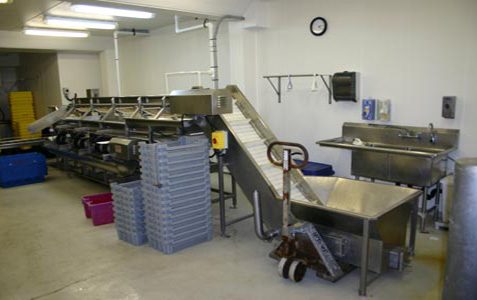 The Lobster Plant
All of our facilities are located on the shores of the Atlantic Ocean. From here they are able to use fresh sea water from the crystal clear waters off Nova Scotia. This water is constantly refrigerated and temperature controlled to optimize live hard shell lobster all year round. Constant care is brought to assure only lobsters with the hardest shells and fullest meat are shipped.
How To Order Your Lobster
Figure out how many lobster you will be needing for your office party or up coming event and the size of each lobster. The size of the lobster are shown on our price quote page with pounds converter.
Go to our price quote form and fill out as many details as you can so we can provide you a shipping estimate for FEDEX OVERNIGHT or Air Canada and WestJet.
After you receive your price quote for your order we would need your payment by Interac E-Transfer from your online banking at least 2 days before the order is needed. Lobsters are then packed and sent the following morning.
Canadian Lobster
Atlantic Canada's Live Lobster
Canadian Atlantic Lobster is considered one of the world's premier seafood and is in high demand. Canada currently supplies more than half of the world's supply of "hard-shelled" Atlantic Lobster. Typically, the lobster season in Atlantic Canada peaks twice year, once in the spring (April-June) and another in December. Live lobster is available year-round from East Coast Wholesale Lobsters various holding pounds. Great strides have been made in holding technology, enabling access to high-quality live lobster throughout the year. Hard-shelled versus soft shelled. In Canada, the lobster season is staggered around the summer moulting period and most Atlantic Lobster are harvested hard-shelled. Many consumers prefer hard-shell lobsters over soft-shell lobsters because of several reasons. Hard-shell lobster contains 50% more meat than the same size soft-shell lobster. Hard-shell meat is firmer, while soft-shell meat is softer and tends to have more water. Furthermore, hard-shell lobsters ship better than soft-shell lobsters because they are less likely to crack en route. Cracking a hard-shell Atlantic lobster takes some effort, but the results are worth it! Contact us to help you source a good, steady supply of succulent hard-shell Atlantic Live Lobster all year-round.
Testimonials
Your lobster arrived safe and sound the following day by 12:00 noon as you promised. They were still kicking and ready for a pot.
I'm so glad our Lobster cooking experience and dinner was enjoyed by our group of friends. I feel I always have as much fun sharing our Nova Scotia stories and traditions through our food from back east. We always seem to laugh with guests as much as we cook. This was a great idea!
We miss our lobster cooks but now we know where to order it fast and prompt..  Thank Guys