Insulated Packaging For Our Market Lobsters
Experience has taught us that live Fresh Lobsters travel best when packed securely in heavy-duty Styrofoam cartons, covered with wet packing material, together with gel ice packs, before they are sent off to you. So, that's what we do. We also use a more insulated and sturdy box known as a "cloud box". These boxes are very similar to wine boxes including dividers to separate the lobsters in a fashion that they will not touch each other when shipped. We use these especially in the warmer summer months along with extra ice packs to ensure survival and top quality.
East Coast Wholesale Lobsters custom sorts by size as well as quality. We sort all of our lobsters by weight and hardness of shell. All lobsters are then placed in our cold water lobster tanks for seasoning. We will then custom pack the exact amount of lobster on your order. From 1 to 10+ pounds each and from 1 lobster to 2000+ pounds, we can special pack in insulated boxes or insulated LD3 containers to ensure that they arrive alive and kicking at your door.
Live lobsters require specialised handling and packaging. Carefully packed for quality in insulated air cartons, lobsters can be shipped anywhere in the world. Small orders can be over night using door-to-door service. Larger orders can be shipped and received same day or no later than next day. We are 20 minutes from the Halifax International Airport and all shipping and trucking terminals. Our location gives us an advantage over other companies who have to drive several hours before dropping off their shipments. We can take an order at 2:00 in the afternoon and have it to the airport by 3:00, which is very important to minimising time out of the water.
PACKAGING:
We package our products with the following: an insulated styro foam box, frozen ice gel packs, and a cardboard box. Our packaging will keep your order protected and temperature controlled for the duration of the shipment. Each lobster we ship is inspected by hand to ensure you receive a strong, healthy, and hard shell product full of meat.
30LB TRUEFOAM CLOUD BOX WE USE FOR LOBSTER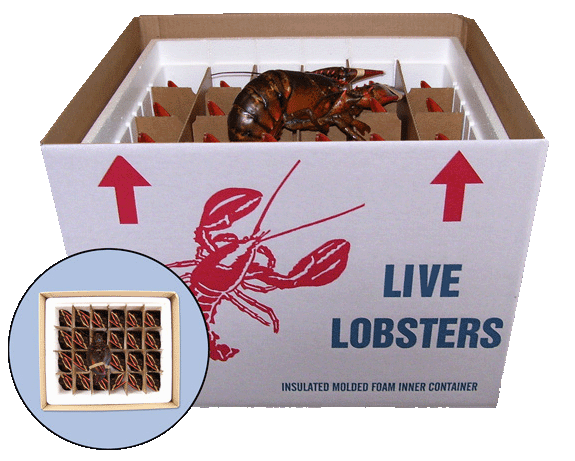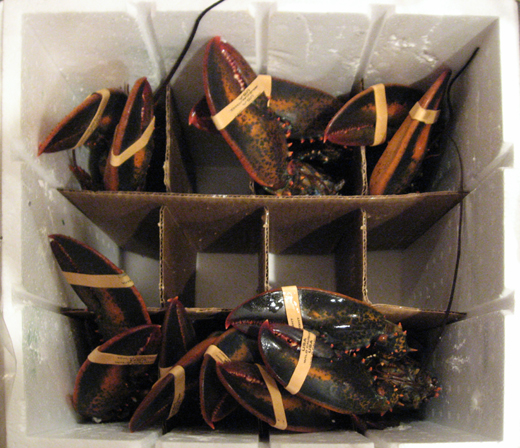 Lobster Packaging
Quality control is essential when transporting our product to market.
Low Profile Shipper
30lb low profile Canadian lobster shipper
1" EPS molded foam cloud box
Box weight  7 LBS
| | | | |
| --- | --- | --- | --- |
| ITEM | LENGTH | WIDTH | DEPTH (inside dimensions) |
| 30LB | 25 | 18 | 8 |
JOIN OUR PRICE LIST FOR FREE GIVEAWAYS